Bio Megaraptor

Genesis Bio Megaraptor
GB-001
Megaraptor Type
Digald Empire
Crew
1
Weight
75.0 tons
Depth
28.8 m
Height
10.8 m
Maximum Speed
330 km/h (205 mph)
Weapons
Hellfire [1], Heat Hacking Claw (2)[2], Heat Spike (2)[3], Tail Cutter [4], Heat Killer Bite [5]
Equipment
Hell Armor[6], Burning Jet (2)[7], Bio Zoidcore[8]
The Bio Megaraptor (バイオメガラプター, Baio Megaraputā) (not to be confused with the real life Megaraptor, which it isn't based on) is a Raptor-type Zoid, one of over 200 species of biomechanical lifeforms depicted by TOMY's Zoids model, toy, and media franchise. The Bio Megaraptor is unique to the Zoids: Genesis anime and the related Genesis model line, and is one of the Bio Zoids used by the antagonists.
Overview
[
]
Although similar to the Bio Raptor, the Bio Megaraptor is approximately 2 or 3 times larger, and armed with a set of golden, Metal Zi-resistant claws. It was conceived as a commander-class Zoid that could be used to coordinate Bio Raptor forces.
Media Appearances
[
]
Anime
[
]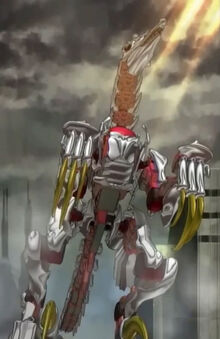 The original Bio Megaraptor could only be piloted by Zairin, and after his defeat, the combat data gained from his unit was used to mass-produce the Bio Megaraptor. These mass-produced versions are identical in performance, but could be piloted by other Digald pilots. They also sport a different color scheme (having primarily purple and green, rather than red and gold undertones). As these units were deployed, Zairin himself would be given a Bio Volcano instead.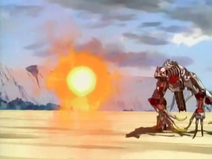 The Megaraptor would prove to be an effective Digald Zoid, being many times stronger, faster, and more agile than a Bio Raptor. However, it did not possess the same durability, nor firepower, that other units, like the Bio Tricera or Bio Kentro would.
Video Games
[
]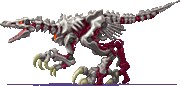 The Bio Megaraptor appeared in Super Robot Wars K.
Trading Cards
[
]
The Bio Megaraptor was featured as part of the Zoids Scramble release of Zoids Trading Cards.
Model
[
]
Genesis
[
]
The Bio Megaraptor was released as part of the Genesis line. The Zoid is poseable, the head,arm, leg and tail can be adjusted. It comes with an internal light and speaker powered by a standard button battery. It also comes with its own stand.
Bio Megaraptor Holotech
[
]
To obtain the Bio Mega-raptor, one had to have bought all three Genesis DVD box sets (which cost USD $300 a piece) then send proof of purchase.
Bio Megaraptor Glearmd
[
]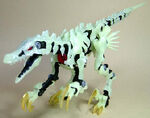 The first special edition kit of the series that comes with glow-in-the-dark Hell Armor and a small Zairin figurine.
Generations
[
]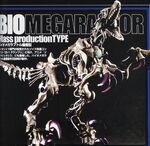 The Bio Megaraptor Mass Production type is one of the antagonist Zoids in the Zoids: Generations storyline. It features gray Hell Armor on a gray frame with purple claws. The name reflects the fact that the Zoid was mass-produced in the show. The Generations line was released only as a limited-edition run.
Genesis Keychain
[
]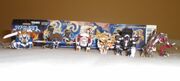 The Bio Megatraptor is one of several Genesis-line Zoids to be made into miniature key-chain attachments. It is simply a single piece of plastic and has no moving parts. It is colored in the same red, silver, and gold fashion as Zairin's unit.
References
[
]