Blade Hawk

FMC Blade Hawk
No Designation
Hawk Type
Helic Republic?
Crew
None
Weight
? tons
Depth
? m
Height
? m
Maximum Speed
?
Weapons
?
Equipment
?
The Blade Hawk (ブレイドホーク, Bureido Hōku) is a hawk-type Zoid, a race of biomechanical lifeforms from the fictional Zoids universe.
Overview
[
]
The Blade Hawk is an unmanned aerial Blox Zoid possessing advanced stealth capabilities. Its primary function is as a support system for the Murasame Liger. The two combine to form the Murasame Liger Shinobi Custom, equipping the larger Zoid with the Blade Hawk's stealth abilities as well as an enormous shuriken.
Media Appearances
[
]
Video Games
[
]
The Blade Hawk's only video game appearance was in Zoids: Full Metal Crash. It can be unlocked for use by Berg Virenskraft's Murasame Liger once he has obtained it from Schnell Courage. The Blade Hawk appears only in the form of the Shinobi Custom; it plays no active part by itself.
Magazine Stories
[
]
Generations
[
]
A Blade Hawk named Eika appears in Dengeki Hobby Magazine's Zoids: Generations storyline. It was the partner Zoid of Tobizaru, a modified, sword-wielding Hammer Rock. Eika could transform into a flight pack (and giant shuriken) for Tobizaru. With its redesigned wings and head and brand-new legs, it was much more birdlike than normal Blade Hawks. A custom was made and shown in the magazine, but never released.
Models
[
]
Full Metal Crash
[
]
The Blade Hawk was released with the Gamecube game Zoids: Full Metal Crash in late 2005. The kit includes two sprues (blue and grey), a silver second-style Core Blox, a manual and a sticker sheet. There is no pilot.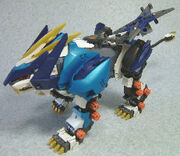 The Blade Hawk can be disassembled and combined with Murasame Liger to form the Murasame Liger Shinobi Custom.
A gold chrome plated version was released as a sweepstakes contest prize in Japan and was packaged with gold chrome plated versions of the BLOX Shield Liger and Sauro Knight. Only 50 sets were ever produced.