Brachio Zilla

FZ Brachiorex in Brachiosaurus mode
BZ-105
Brachiosaurus/Tyrannosaurus (dual configuration) Type
Helic Republic
Crew
1
Weight
39.0 tons
Depth
8.6 / 13.5 m
Height
12.4 / 8.7 m
Maximum Speed
260 km/h (161 mph) quadruped mode /195 km/h (121 mph) biped mode
Weapons
Bite Fang, Heat Claw (4)
Equipment
?
The Brachio Zilla can change between a Brachiosaurus-type Zoid and a Tyrannosaurus-type Zoid, a race of mechanical lifeforms from the fictional Zoids universe. It is also known as Brachiorex (ブラキオレックス, Burakiorekksu).
Overview
[
]
The Brachio Zilla is a Helic Republic Blox Zoid which is not only capable of merging with other Zoids to form more powerful combinations, but which can itself convert between two very different forms. Beyond this, very little specific information is known about it.
Brachio Zilla's primary fusion partner is Missile Tortoise, with which it can form Brachiotortoise.
Media Appearances
[
]
Anime
[
]
Fuzors
[
]
The Brachio Zilla appears in Episode 6: Ambush in the Wasteland where it attacks RD and Sigma. It fuses with the Missile Tortoise and attacks the Liger Zero Phoenix. The Fuzor is quickly defeated by the Liger, despite landing an attack with its powerful missile.
Video Games
[
]
Trading Cards
[
]
Brachiorex was featured in the Zoids Scramble release of Zoids Trading Cards. The Brachiotortoise also appeared in the Zoids Scramble set.
Model Kits
[
]
Z-Builders
[
]
The Brachio Zilla was first released by Hasbro in 2003. Although marketed as a Z-Builders kit, it includes only one silver Core Blox, and is largely constructed around a "transformable" preassembled motor unit. It could be built in either of two forms, both using all of the included pieces. It comes with one grey Republic pilot and, like all Hasbro-original Blox kits, its Blox are the original Republic style but with red (Imperial) innards. The kit retailed for $14.99. Unfortunately, it does not come with instructions on how to combine it with Missile Tortoise.
The motor runs on one AAA battery and was shared with Dimetra Ptera and Leo Gator.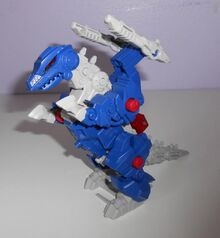 Fuzors
[
]
TOMY, in conjunction with the Fuzors anime, released a slightly-recolored version of Brachio Zilla called Brachiorex. It was sold packaged with an equally-slightly-recolored Missile Tortoise under the name Brachiotortoise. The Zoid was a limited edition release. It included new sticker sheets and instructions on how to build each individual Zoid as well as the combination. Of note is that Missile Tortoise's missile cannot be loaded in Brachiotortoise form because the Zoid's head is in the way.
References
[
]