Line 1:
Line 1:
 
+

'''[[File:Dry_Panther_1.jpg|thumb]]Dry Panther''' is an upcoming panther-type Zoid, one of over 200 species of biomechanical lifeforms depicted by [https://zoids.fandom.com/wiki/TOMY TOMY's] '''''[https://zoids.fandom.com/wiki/Zoids Zoids]''''' model, toy, and media franchise.

−

Drei Panther is a panther type zoid

 
 
+

==Overview==

 
+

Dry Panther is a small Zoid with an open-air cockpit. Compared to other Zoids in the [https://zoids.fandom.com/wiki/Zoids:_Wild ''Zoids: Wild''] series, it is an M-sized Zoid.

 
+

==Models==

 
+

==Navigation==

 

[[Category:Zoids]]

 

[[Category:Zoids]]
---
Revision as of 10:49, 9 December 2019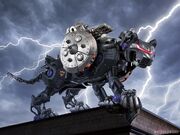 Dry Panther is an upcoming panther-type Zoid, one of over 200 species of biomechanical lifeforms depicted by TOMY's Zoids model, toy, and media franchise.
Overview
Dry Panther is a small Zoid with an open-air cockpit. Compared to other Zoids in the Zoids: Wild series, it is an M-sized Zoid.
Models
Community content is available under
CC-BY-SA
unless otherwise noted.