Today (28th Feb 2019), the game "Zoids Wild King of Blast" for the Nintendo Switch officially launched in Japan.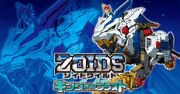 https://twitter.com/Nintendo/status/1100925450686099457
It is a fighting game featuring a select number of Zoids and characters from the Zoids Wild series.
The game costs 6458Yen, and is currently exclusive to Japan.
Sylvanelite (talk) 01:56, February 28, 2019 (UTC)
Today there was a livestream by Takara Tomy about the game. I have also seen a video by a Japanese YouTuber, who played this game.
Moviejunkie2009 (talk) 22:49, March 1, 2019 (UTC)