Geno Ritter

Geno Ritter package illustration

Tyrannosaurus Type

Crew
1
Weight
131.6 tons
Depth
23.0 m
Height
15.8 m
Maximum Speed
275 km/h
Weapons
Electromagnetic Blade (2), Magnetic head Sir Wing vernier over, Dragoon cache tar (2), Magnetic head Sir Wing (2), Laser charging blade (2), Hyper Killer Fangs, Hyper Killer Claws (2), Hyper Strike Claws (2), Charged Particle Cannon
Equipment
Head armor, Footlocks (2)
The Geno Ritter is a Tyrannosaurus-type Zoid, one of over 200 species of fictional biomechanical lifeforms depicted by TOMY's Zoids model, toy, and media franchise. Based on the Geno Saurer, the Geno Ritter was released in September 2013.
The Geno Ritter is a Tyrannosaurus-type Zoid derived from the earlier Geno Saurer design. It has all the capabilities of the Geno Saurer including new weapons and equipment that allows it to change into two(2) other variants that exceeds the standard performance features.
Battle Story Appearances
Edit
Media Appearances
Edit
The Geno Ritter appears in the Zoids SS Manga.
Alongside the Zoids: Original announcement, a CG Promotional Video was also released featuring the Geno Ritter.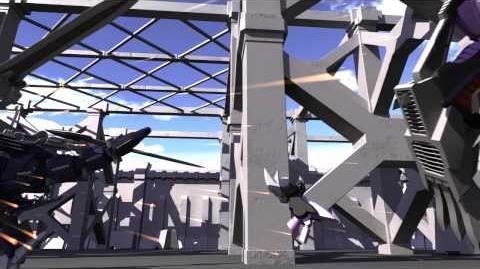 Zoids: Original
Edit
The Geno Ritter is the third release of the new Zoids: Original line.
The Geno Ritter kit comes with ten(10) frames, along with a battery-operated motor, two(2) clear eye pieces, fifty-one(51) rubber caps, and a label sheet. The Geno Ritter is molded in dark blue and brown with silver details and a red horn. Basically, a Geno Saurer kit with some additions for new weapons and equipment. The kit is good for display purposes, for some kits themselves have different fits, some tight, some loose, but it doesnt mean you cant get your 7 year old self tinker with it. While turning some joints and parts, they often come off but you can re attach them fairly easily.
The Geno Ritter uses a pair of "AAA" sized batteries for motion. Once activated, the Zoid walks forwards with its arms waving, jaw snapping and the tail sweeping side to side. Additionally, a red light flashes on in the eyes. The Zoid, like its predecessors, has a cockpit mounted in the chest.
TOMY also released an upgrade kit, the CP-07 Cannonry Unit. Also used by the Molga and Heldigunner, the kit consists of a large, long-barreled artillery cannon. The Shot Cannon replaces the Geno Ritter's standard back guns.
Community content is available under
CC-BY-SA
unless otherwise noted.