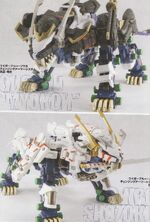 As part of the Zoids Generations line, the Liger Zero Souga was released. With it, came the new CAS, Gusoku Myokoh. The CAS also gives the Liger Zero a katana, which it can hold in its mouth or in a slot on its left front leg. There is also a sheath for the katana on the Liger's right side.
Release Details
Edit
The Gusoku Myokoh CAS was also available as a mail-in offer; the CAS was cast from resin, as opposed to plastic, and came unpainted. The CAS kit did not come with a Liger Zero Blue Souga but included instructions on how to attach it onto the Zoid. This CAS saw two releases; the first release of the armor, sold as a convention exclusive at C3X in 2005, was limited to 200 units and included a Midori figurine. The second release of the armor, sold through the Tateishi store was limited to 10,000 units, but included a 1/72 scale Midori pilot figure as opposed to the larger scale figurine.
A second version of the armor was planned for release. The armor is known as the Shiro Shozoku. Unlike the other CAS, this version had two shields instead of one, and new shin guards. Otherwise, there seem to be no other differences when compared to the Gusoku Myokoh. This kit never went into production, and was only seen in DHM.
As a part of the Generations line, this variant of the Liger Zero is limited to various comics and artwork. It appeared in the mobile version of the Zoids Saga games.
Community content is available under
CC-BY-SA
unless otherwise noted.