Luc is a fictional character from Zoids: Wild ZERO and the squad leader of the Empire Forces.
Zoids Wild ZEROEdit
Commander Luc appears in episode 1. He is chasing Sally Land as she flees from the Empire.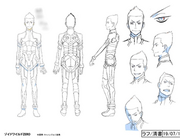 PersonalityEdit
Ability as a Zoid pilotEdit
RelationshipsEdit
Luc's voice actor (Daisuke Kishio) is also the Japanese Voice Actor for Van Flyheight.