Welcome to the Zoids Wiki! This the ultimate English Zoids database, and is expanding all the time! You too can easily become part of this Zoids community. We are currently harboring 1,010 articles with 6,117 images.

Please Note: Spoilers (regarding the anime, battle story, manga, etc.) are found on almost every page, with no warning as to where they begin and end.
Zoid of the Month: August
King Gojulas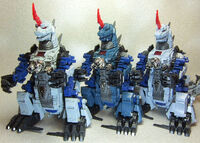 The King Gojulas is a Tyrannosaurus type Zoid designed by the Helic Republic to turn the tide in their war with the Guylos Empire. A massive Zoid with extreme Godzilla design influences like other Zoids in the Gojulas line, it boasted extremely thick armor and highly destructive rapid-fire weapons, as well as advanced sensors and sonic weaponry; the Super Sound Blaster was designed to amplify its roar to deadly volumes, rattling apart Zoids it couldn't reach to destroy in melee. In actual combat, it proved nigh-unstoppable, going down on record as the single strongest Zoid of its era.
In response, the Guylos Empire designed the Descat in order to stop the King Gojulas. But the two foes would never meet in combat, as a comet struck on of Zi's moons raining down meteors and destroying large numbers of Zoids and land.
Zoid Pilot of the Month: August
Hop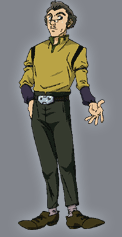 Hop is something of a manager of Mach Storm, he is frequently seen shuffling papers, worrying about finances, and arranging jobs. He is frequently stressed out by the childish antics of RD and Sigma, especially when it comes to completing jobs. His actual role is unclear, but he is usually the one who assigns and accepts jobs, although his teammates (RD specifically) often ignore his advice anyway. He has a sister in Brown City.
Rather ordinary and unremarkable he does care for his team and tries to offer them advice. Unfortunatly his advice goes unnoticed, adding unneeded stress to his already stressful job.
Zoids Sites & Forums:
The following is a list of Zoids sites. Please note we cannot be responsible for the contents nor the legal liability of the site. Please do not advertise anywhere else on this site beyond here.
The official Zoids site - Takara Tomy web site.
Zoids After Era - An Advanced Zoids RPG with a great system and an active community. A variety of Zoids to choose from and many possibilities to progress from there.
Zoids Philippines - The home of the Filipino Zoider.
Zoids Poison - Singapore-based international Zoids site.
Zoids US - Ultimate online resource for Zoids.
Crushader's site - A great resource for Ligers and other Zoids.
Lionel's site - A French collector's site covering a lot of material.
Zoikino - A Japanese site covering some great customs.
Zoids Lair - Site with sprites, model reviews, forums, and more.
Generation Zi - Zoids Forum based RPG
ZoidsCore - Zoids anime, manga, music and games resource site.
Zoids Card Gallery - A Zoids Card Gallery at sieg.nu
ChaoticAgeZero - A Zoids RPG with its own backstory
Japanese Zoids Wikipedia entry - The Japanese Zoids Wikipedia page(s)
Zoids Wild Frontiers - A Zoids Roleplaying Game and Battle site set in a (fanon) Zoids future
ZoidsCore - A forum based Zoids RPG set 25 years after the events of Zoids: New Century. Join in on the adventures of a Zoids Battle Commission that has become corrupt and Nightshade, a group led by Dagon Obscura who has taken over the Backdraft.
ZoidsForum.com - Forum for Zoid discussion of all types!
Zoid Warfare - MMO Browser Based Zoid Warfare!
Zoids: Battle Century - A Zoids online forum-based creative cooperative writing project based in an original, fan-created continuity. This site focuses primarily on character and world building, and welcomes all capable writers.
Disclaimer: Zoids, The Zoids logo, Takara Tomy, and all associated marks, logos, places, names, creatures, races and race insignia/devices/logos/symbols, vehicles, locations, team and team insignia, characters, products, illustrations and images are either ®, ™ and/or © Takara Tomy, variably registered in Japan and other countries around the world and will be used in a way that qualifies as fair use under US copyright law. All Rights Reserved. All other trademarks, logos and copyrights are property of their respective owners.
Community content is available under
CC-BY-SA
unless otherwise noted.