Sauro Knights

Saga Sauro Knights
No Designation
Dinosaur Type
Kingdom of Arcadia
Crew
1
Weight
12.0 tons
Depth
13.7 m
Height
? m
Maximum Speed
195 km/h (121 mph)
Weapons
Single Cannon, High-Frequency Fang
Equipment
?
The Sauro Knights (サウロナイツ, Sauro Naitsu) is a dinosaur-type Zoid, one of a race of biomechanical lifeforms from the fictional Zoids franchise. Its name has also been spelled Ssauro Knights.
The mysterious Sauro Knights is the hereditary Zoid of the ruling family of Arcadia, passed down through the generations. Little is recorded about its origins or development, although there are rumors that its strangely advanced design may be the result of technology harvested from some unknown place or time.
It is capable of merging with the Murasame Liger to form the Murasame Liger Knight Custom.
The Sauro Knights is featured in the Zoid Saga DS video game. It is the initial Zoid of Prince Athle.
The Sauro Knights was released as a limited kit with the Nintendo DS game Zoids Saga DS in late 2005. It includes two plastic sprues (red and black), a gold second-style Core Blox, a manual and a sticker sheet. The Sauro Knights is simple to assemble because of the small number of parts.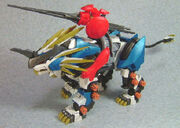 The Sauro Knights can be disassembled and combined with the Murasame Liger to form the Murasame Liger Knight Custom.
A gold, chrome-plated version was released as a sweepstakes contest prize in Japan and was packaged with gold chrome plated versions of the BLOX Shield Liger and Blade Hawk.  Only 50 sets were ever produced.
Community content is available under
CC-BY-SA
unless otherwise noted.