Spiker

OJR Spiker
RMZ-09
Mantis Type
Helic Republic
Crew
1
Weight
6.4 tons
Depth
9 m
Height
6 m
Maximum Speed
220km/h
Weapons
30mm Barrel Anti-Air Gun[1],
Equipment
Spiker (スパイカー, RMZ-09) is an Praying Mantis-type Zoid
Models
[
]
Zoids 1983
[
]
Spiker was first released as part of the Zoids_(1983) line. It is small mantis-type Zoid with a fairly simple build. He was released in the early 80s and was molded in black and grey with blue caps and the characteristic "White Head" cockpit.
Spiker uses a small wind-up motor for motion and comes with one gold-chromed pilot figure.
Original English Release
[
]
Spiker was released in the UK as part of the OER under the name Mantazoid. Aside from the box art the Zoid is identical to the OJR
Robo Strux
[
]
Spiker was also released in the US as part of the Robo Strux line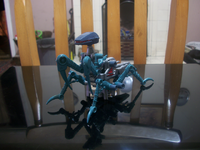 under the name Sekta. It was completely recoloured to light blue and silver and came with a dark blue "Clamshell" cockpit instead of the standard White Head style with a chrome silver pilot figure replacing the gold one. He was released with a new box art, but may also be found in boxes (and colours) similar to the OER style.
Helic Memorial Box II 1983-1984
[
]
Spiker was re-released in 2007 for the second Helic Memorial box along with Gorgodos, Hidocker, Pegasuros, and Furolesios. It's identical to the OJR.
References
[
]