Line 42:
Line 42:
 
 
 

Also look at the the 2 Yuujin tortoises. the colors are also slightly different and the CP colors are different. someone please help me!Leon35 00:07, May 7, 2010 (UTC)

 

Also look at the the 2 Yuujin tortoises. the colors are also slightly different and the CP colors are different. someone please help me!Leon35 00:07, May 7, 2010 (UTC)

 
+
 
+

One thing I know is that I want them.

 
+
 
+

Anyhow, I'm not sure If NAR Buster was ever made. If it was, we might have heard of it. Who knows, it could have been a proto. ([[User:Zoids Fanatic|Zoids Fanatic]] 00:22, May 7, 2010 (UTC))
---
Revision as of 00:22, 7 May 2010
wat r u peeps talkin about? NAR buster tortoise????? i have only seen examples of the NAR cannon tortoise? need 2 see photo otherwise i changing it--Leon35 23:22, October 7, 2009 (UTC)
TELL ME!
hello?--Leon35 22:34, October 8, 2009 (UTC)
yeah i dont know any thing about nar Butert--98.77.160.46 23:33, October 8, 2009 (UTC)
The cannon tortoise family
time to solve this. here is a pic i found. i take no credit for it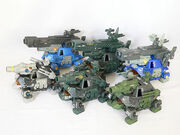 Bottom Right: OJR
Bottom Center: NJR/NAR??
Bottom Left: OER
Top Right: Yuujun?
Top Center: NJR/NAR/NAR Buster/NJR with CP???? (did acadamy release a tortoise w/ cp?)
Top Left: Yuujin?
notice that the 2 NJR's have slightly different colors. now is the Top Center just a NJR/NAR cannon tortoise w/ the CP or is it this NAR Buster Tortoise?
Also look at the the 2 Yuujin tortoises. the colors are also slightly different and the CP colors are different. someone please help me!Leon35 00:07, May 7, 2010 (UTC)
One thing I know is that I want them.
Anyhow, I'm not sure If NAR Buster was ever made. If it was, we might have heard of it. Who knows, it could have been a proto. (Zoids Fanatic 00:22, May 7, 2010 (UTC))
Community content is available under
CC-BY-SA
unless otherwise noted.