Twinhorn

OJR Twinhorn
EMZ-28
Mammoth Type
Zenebas Empire
Crew
1
Weight
25.5 tons
Depth
10.1 m
Height
8.7 m
Maximum Speed
180 km/h
Weapons
Flamethrower (2)[1],

Missile Pod[2], Hit Tusks (2)[3], Accelerated Beam Gun (2)[4]

Equipment
Smoke Launcher[5]
The Twinhorn (ツインホーン) is a Mammoth type of Zoid, a race of mechanical lifeforms from the fictional Zoids universe.
Overview
[
]
Twinhorn, was released first released during the late OJR line, and was one of the last regular wind up Zoids before the Power Up 1000 line.
Battle Story Appearances
[
]
This section is about the events in Battle Story, which is primarily in Japanese. Information in this section may require additional citations.
Designed more for close combat against other Zoids as part of shock troops than for artillery use, the Twinhorn was also used by bodyguards.
Media Appearances
[
]
Models
[
]
Zoids (1983)
[
]
The Zoid was released as part of the Zoids (1983) line. It is estimated to have been released as of 1986 with production continuing until 1989.
The kit is simple, sharing the same wind-up motors as most Zoids of its time. The Zoid shares its legs with several other earlier Zoids, such as Zatton and Geruder. Twinhorn's main color scheme consists of red-orange and black, with green canopy and blue-green caps, like several other Zenebas Zoids.
Several chrome versions have been released as contest prizes. One example of a contest prize distributed in limited numbers by TOMY was an all gold chrome. This prize was distributed when the Zoid was still in production.
Zoids Graphics
[
]
Twin Horn was re-issued as part of the Zoids Graphics line in 2008. It is almost identical to the 1983 version and comes packaged with a Zoids Graphics monthly comic.
A similar gold chrome release was done of the new Zoids Graphics Twinhorn. It came in a unique, metallic, black and gold box which had Rebirth Century logos on it. The box depicted the gold chrome Twin Horn in a similar way Takara-Tomy produced there box art for the Rebirth Century line.
Dark Twinhorn
[
]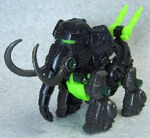 A Dark Twinhorn was released to advertise Takara-Tomy's Dark Army. The Zoid was colored mostly black with some green parts and had a green canopy and green caps. All of the green parts and caps glow in the dark. The Zoid was sold at Wonderfest in 2008 and was packaged along side with the Dark Iguan. There were no other changes to the model aside from packaging and a Guylos sticker sheet which also glowed in the dark.