As an admin, feel free to ask me for help, advice, or other random questions.
---
Genoblade
This is NOT AN OFFICIAL ZOID
Genoblade

GenoBlade
AZ-001
Tyrannosaurus Type
Custom
Crew
1
Weight
113.2 tons
Depth
25.6 m
Height
10.9 m
Maximum Speed
315 km/h
Weapons
Hyper Killer Fangs, Hyper Killer Claws (2), Hyper Strike Claws (2), Grapple Arms, Long-Range Cannon, Laser Gatling Gun, Laser Blades (6), 5-Shot Shoulder-Mounted Rocket Launchers (2), Charged Particle Cannon
Equipment
Anchors (2), Energy Shield Generator, Floating Shield Generators (2), Boosters
The product of my boredom, the Genoblade has actually become something over time. You don't have to imagine anymore! There is a laser blade mounted on the each hip, just above the elbows, at the end of its tail, and on its head. In place of the pulse laser rifle is a small backpack where two short arms are mounted (reminiscent of those on Berserk Führer). The cannons are mounted on the end of each arm, a long range cannon on the left and a laser gatling on the right. The shoulders of the Genoblade are bigger than a normal Genosaurer's, to accommodate for rocket launchers. Each shoulder has five launch tubes, for a total of 10 rockets.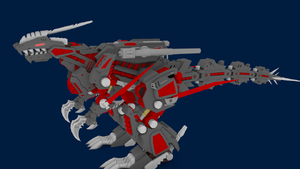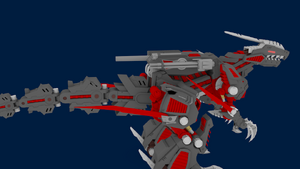 My Personal Collection
OJR
NAR
NJR
Genesis
HMM
I also own Zoids Legacy, Zoids Battle Legends, and Zoids VS III.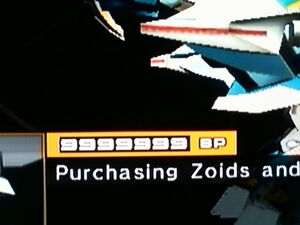 Community content is available under
CC-BY-SA
unless otherwise noted.