I am Sebastian, I edit Fandom Wiki's from small-time-wonders like the Dragonology Fandom Wiki, to middle-class Fandom Wiki's like: United States Fandom Wiki, Rsroleplay Fandom Wiki, and the Skateboarding Fandom Wiki. To the even greater Fandom Wiki's like Halo's Fandom Wiki.
I maintain Snake Wiki, am a Bureaucrat for Deadpool Wiki and have even Founded Billiards Wiki & the HaloProtocol Fandom Wiki. I like to skateboard, train in swordsmanship, and get buff. I'm Polish, North American, with interests in motorcycles, ball rooms and just noble class stuff. I have a Malayan Pit Viper animal herald for Role-Playing; I trained in role-playing during schooling and decided the best tactical option to enhance my experience and to never give up on myself is to create a family crest/sigil- that being those spirit animals people earn through Martial Arts and barbarianism.
I'm currently studying adventurer for my herald. One day when the quest-books are over taken (level 1 and steadily forward) I will have created a kingdom worthy of slaying a space dragon.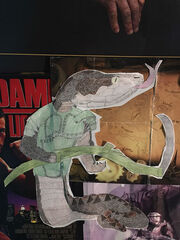 Only the best are the best. And one day it will be imperatively so, instead of just assentual. With all anime Pilots being just that- "anime Pilots" that my ZOID must be picked by the Key to the Wiki badge. I'll have a roleplay with it on my DISCORD at some point.
On 8/7/2019 the random page I encountered was some sort of Toys R Us exclusives and the first ZOID was a "clear Geno Saur" so I clicked it and it took me to the Geno Saurer. My ZOID is a Geno Saurer.