Victor Spiegel[1] is a fictional character from Zoids: Wild ZERO.
Overview
[
]
Zoids Wild ZERO
[
]
Spiegel pilots the Drei Panther. He is initially seen to be part of the Empire, but when Shigaru announces the "True Empire", he is shown to switch sides.
Personality
[
]
Ability as a Zoid pilot
[
]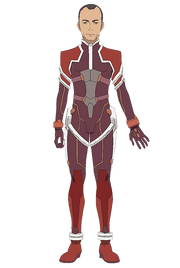 Spiegel is shown to be a competent pilot, but usually fights in pitched battles using stealth to win.
Relationships
[
]
Trivia
[
]
Spiegel's first name is rarely used. The official website only refers to him by his surname[2]. With the release of the Hunter Wolf Kai, his first name "Victor" was correspondingly revealed[3][4]
In the Youtube introduction for the Zoids: Wild Biographies line, Spiegel's name is written both "Spiegel", and "Spieger"[5]
References
[
]