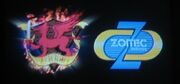 Zi-Arms is a fictional weapons-manufacturing company in Planet Zi responsible for creating the Decalto Dragon, Brastle Tiger, and the Mega Death Saurer Zoids. Zi-Arms was part of the Neo-Zenabas Empire. Just as its rival company ZOITEC created Blox Zoids, Zi-Arms owned several Zoids from the previous Battle Story, including the Iron Kong, Demonshead, Lord Gale, and Deantler. The company was covered in the Three Tigers Battle Story.
Video Game Appearance
Edit
In Zoids VS III, Zi-Arms appeared as an influential company and the main antagonist, whose main objective was to create the Mega Death Saurer. In order to do so, Zi-Arms used shady, if not illegal, tactics. In an attempt to thwart Arrow's investigation, the company invaded Blue City. Zi-Arms utilized many Zoids from the Guylos Empire to keep the protagonists from interfering with the creation of the Mega Death Saurer. They used swarms of unmanned Blitz Hornets and Rev Raptors on several occasions to invade parts of Blue City. The stronger or larger Zoids Zi-Arms employed, including the Lightning Saix, Redler, Iron Kong, and Mad Thunder, appeared to be piloted by mercenaries the company selects. Like the Battle Story, Zi-Arms' ace Zoids were the Decalto Dragon and Brastle Tiger. However, unlike the battle story, the Decalto Dragon was not destroyed by Mega Death Saurer.
Media Appearance
Edit
The Zi-Arms corporation is featured in the promotional DVD included with Brastle Tiger model.
Primary Battle Story Zoids
Edit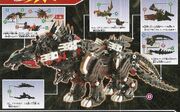 Video Game Zoids
Edit
Community content is available under
CC-BY-SA
unless otherwise noted.