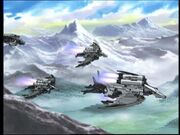 Warriors on Vacation - The Storm Sworders

[

]
Warriors on Vacation - The Storm Sworders is episode 17 from the Zoids: New Century anime series, based on TOMY's Zoids model franchise.
Overview
[
]
The episode begins with Laon challenging Dr. Toros, although he does not accept, casually dismissing him until he hears the location, a beautiful mountain range known for its hot springs. Wanting an excuse to have a vacation, he changes his tune and accepts. While on holiday Bit comes across Pierce. After a brief conversation, she leaves and travels with the Count to pick up a new recruit, none other than Dr. Laon, who gives her, Polta, and two other warriors a customized Storm Sworder each.
The Blitz team sends out their three Zoids, while Laon sends out his Storm Sworders. Surprised by the appearance of the Dark Judge, Jamie also heads out, quickly converting into his Wild Eagle personality. Bit lures the Storm Sworders while Brad and Leena bombard them from the ground. However, their shots fall short, leaving Jamie to pick up the slack. He engages Pierce in a one on one duel, but as Brad and Leena are bombed, (the former falling off a cliff) he briefly changes targets, taking out her two of her wingmen. While he is distracted by them, Pierce gets behind him and takes him out with the Storm Sworder's swords. Laon quickly tells the remaining two units to attack the Hover Cargo, citing the Liger's armors as their primary targets. It uses its shield to defend against Polta's initial strike, and as he turns around to rearm, Brad, who had not been knock out, merely immobilized, takes him out with a surprise attack. Bit demands a one-on-one with Pierce while Laon demands she maintain her attack on the Hover Cargo. She disobeys him and goes after Bit, using sonic booms to toss Bit around while Leena locks herself onto the Hover Cargo's catapult. Pierce shoots at Bit with her missiles. Seeing an opportunity, Bit runs headlong at the missiles, jumping on them to send them off course. Bit then jumps up and hits her before getting hit by another sonic boom. She turns around and attempts one more pass at Bit, but before she does, Leena fires at her with her Gunsniper, powered up from the catapult, and scores a hit. With this Pierce turns her Storm Sworder around and leaves the battlefield, ending the battle.
Characters
[
]
Introduced character(s): NIL
Introduced opponent(s): NIL
Featured characters: Pierce
Featured teams: Blitz Team, Backdraft Group
Zoids
[
]