This article relates to the Zoids: Wild anime series. For the corresponding model release, see Zoids: Wild (models). Not to be confused with Wild Zoids.
Zoids Wild


Zoids Wild
Japanese Name
ゾイド ワイルド
Name Translation
Zoido Wairudo
Genre
Adventure, Mecha, Science Fiction, Shounen
Director
Norihiko Sudo
Studio
Oriental Light and Magic (OLM)
Network
MBS (Japan), Cartoon Network (Philippines), Okto/Channel 5 (Singapore), Netflix (United States)
First Aired
7 July 2018
Last Aired
29 June 2019
Episodes
50
Zoids Wild (ゾイド ワイルド) is an anime series linked to the Zoids line of the same name. It is the fifth Zoids series, following Zoids: Genesis in order of production. While the anime retains the Wild name for its English release, the associated toyline is instead simply titled Zoids.
Zoids Wild is notable as being part of a major reboot of the Zoids franchise, twelve years after the last episode of Genesis aired in Japan.
Series background
[
]
TOMY began producing teasers for Zoids: Wild in January 2018, with magazine advertisements in CoroCoro Comics showing a picture of a Zoid and stating an announcement was on the way next month. This was followed by a countdown timer on the landing page of TOMY's official website. The countdown timer simply had the letter "Z" and a two week duration.
The announcement was revealed on February 27, 11:30 am Japan Time. Placed onto the Takara TOMY twitter feed were large block images translating roughly to: "New Zoids Series".
They subsequently revealed the major involvement in all areas, Anime, Manga, Model Kits, Arcade Games, Smartphone app, and a Console game for the Nintendo Switch.
Plot
[
]
The series follows Arashi and his Wild Liger. The main antagonists are the Dark Metal Empire, lead by Gigaboss. They use Zoids for conquest, and have at their command many Zoids and warriors, including the Four Heavenly Kings.
Arashi longs to follow his father's footsteps become a Zoid Hunter, and find his ultimate Partner. At the beginning of his journey, he partners up with the Wild Liger and meets Quade and Team Supreme, who tell him about the Great Ancient Treasure Z.
For the sake of adventure, Arashi sets out to find this treasure, and forms Team Freedom along the way.
Unlike previous Zoids series, Zoids: Wild is set on Earth, not Planet Zi.
Characters
[
]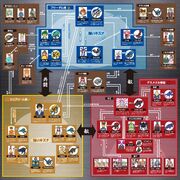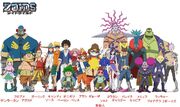 Zoids
[
]
Some of the major Zoids that first appeared in Wild include:
Episode List
[
]
Main article: List of Zoids: Wild episodes
Broadcast
[
]
MPL released the episodes in Summer 2018. The series aired on Saturdays at 6:30AM on MBS from July 7, 2018 to June 29, 2019, replacing The Seven Deadly Sins: Revival of the Commandments in its timeslot. Youtube streams were made available on Saturdays 12:00 noon. The stream version featured short clips in the post-credit section, where chibi versions of the characters would give expositions about events or Zoids in the series.
Broadcasting of Zoids Wild began in South Korea in October, in Hong Kong and Thailand in November, and in Taiwan in December. Philippines and Vietnam started in March 2019.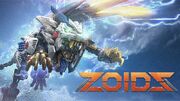 The first English Dub was released in the Philippines, on the 2nd of March 2019. It airs 5:45 pm on Cartoon Network each weekend. This corresponds to episode 34 of the Japanese release. The English Dub aired in Singapore on Okto on April 7 9:30 am, before moving to Channel 5 in May.
The American version of an English Dub was done by "Allspark" (Hasbro Studios) and was released on Netflix to a western audience on 14th August 2020. The Netflix version featured several changes to the original. Episodes were cut to fit an approximately 22 minute run time, additionally the Japanese music seen the series was replaced. The Netflix version does not feature the "Wild Blue" insert theme, and has a new generic opening and ending theme that persists over the entire series. Additionally, several dialogue and scene changes were made in the interests of censorship and localisation. Names of Characters and Zoids in this release follow the Hasbro branding.
Zoids Wild "Instinct Release Radio" was a short radio program broadcast in Japan every Thursday from 2:00pm between the 12th of July and 27th of December 2018 on MBS Radio. It contained voice actors from the Zoids Wild Anime, and talked about events and characters that appear in the show.
Trivia
[
]
Theme songs
[
]
External links
[
]