Line 43:
Line 43:
 

* Brigadier General [[Shigaru]] - gold [[Kill Scythe]]

 

* Brigadier General [[Shigaru]] - gold [[Kill Scythe]]

 

* General Garret - ギャレット VA: 土師孝也

 

* General Garret - ギャレット VA: 土師孝也

−

* [[Spiegel]] - [[Drei Panther]]

+

* [[Spiegel]] - [[Drei Panther]]

 

* Crestwood - クレストウッド VA: 江原正士

 

* Crestwood - クレストウッド VA: 江原正士

 

* [[Emperor Fiona]]

 

* [[Emperor Fiona]]
---
Revision as of 19:19, 27 June 2020
This article relates to the Zoids: Wild ZERO anime series. For the corresponding model release, see Zoids: Wild (Models).
Zoids Wild ZERO


Zoids Wild ZERO
Japanese Name
ゾイドワイルドZERO
Name Translation
Zoido Wairudo ZERO
Genre
Adventure, Mecha, Science Fiction, Shounen
Director
Takao Kato
Studio
Oriental Light and Magic (OLM)
Network
TV Tokyo
First Aired
4 October 2019
Last Aired
TBA
Episodes
TBA

Zoids Wild ZERO (ゾイドワイルドZERO) is an anime series, linked to the Zoids toyline of the same name. It is the sixth Zoids series, following Zoids: Wild in order of production.
Series Background
Zoids are a metallic lifeform from a far side of the Milky Way Galaxy. However, their planet was coming to an end. To promote their chance of survival, a warp was to take place to planet Earth. However, due to an unforseen Zoids factor, the warp took them through time and place to the 21st century. The resulting cataclysm shifted tectonic plates on Earth and reshaped the continents.
Plot
The story picks up when the main character, Leo, uncovers the Beast Liger and sets fourth on a journey with a girl called Sally. After he loses the Beast Liger, he evolves it into Rising Liger
Characters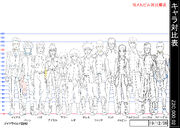 Zoids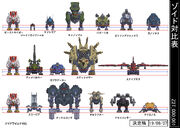 Episodes
Main article: List of Zoids: Wild ZERO episodes
Broadcast
The episodes initially aired on the 4th of October 2019. The first broadcast is on TV Tokyo at 17:55, every Friday, replacing Inazuma Eleven Ares. Following that, the series is streamed on YouTube via CoroCoro and Takara TOMY channels at 8:00 Saturday. It is subsequently aired on 17:30 Thursdays, starting the 17th and 8:30 starting 27th of October on TV Wakayama and Sendai Broadcast respectively.
Impact of the 2019-20 COVID-19 pandemic
On May 21, as a result of the ongoing COVID-19 pandemic in Japan, production of the Zoids: Wild ZERO anime has been halted and new episodes delayed following episode 32 until further notice. [1]
On June 11, production of the Zoids: Wild ZERO anime and new episodes will resume on June 19. [2]
Trivia
As Zoids: Wild ZERO is set when Zoids arrived on Earth, it is framed as a prequel to Zoids: Wild, despite being produced second. The sequel to Zoids: Wild, is Zoids: Wild 2, which runs as a Corocoro comic manga.
This season is directed by Takao Kato, who also directed Zoids: Chaotic Century and also served as a director in Zoids: New Century.
Kenichi Araki (Chaotic Century) is handling series composition, Tadashi Sakazaki (Chaotic Century) is in charge of character designs. Yūki Matsuoka (Wild/Genesis) as sound director, and Yoshihisa Hirano is the music composer.
The written language used in-universe is a simple substitution cipher for the English alphabet, as such the runes seen in the series can be translated.
In a post-credit scene for Zoids: Wild ZERO Episode 30, Leo hints at the events in Zoids: Chaotic Century, meaning Zoids Wild ZERO would be in that timeline (albeit an extremely distant future)
Theme songs
Opening Theme: Blue Blue Blue - Ivy to Fraudulent Game - Kazen ga Nai
Opening Theme: Player - MAGIC OF LiFE
Ending Theme: Hikari - Hazuki Senda
Ending Theme: Door - Arai Maju
Ending Theme: "Rut of Dreams" - H△G
References
External links