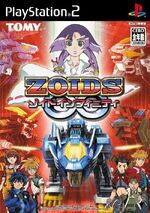 Zoids Infinity is a series of Zoids video games released in Japan. The main focus of this series is based around arcade games and home-console variants.
Zoids Infinity
Edit
Zoids Infinity (sometimes called Zoids Infinity Fuzors to distinguish it from the arcade version) was released on the 17th of February, 2005, for the Playstation 2. Based on the arcade game of the same name, which was released in June 2004, players could control Zoids in wide-open fields much like the Zoids VS series. The story mode followed a pilot named Lance in his quest to become the ultimate Zi-Fighter.
Zoids Infinity EX (Arcade)
Edit
Released in June 2005, Zoids Infinity EX is an update of the original Zoids Infinity arcade game.
Zoids Infinity EX Neo (Xbox 360)
Edit
The next game in the Infinity franchise, Zoids Infinity EX Neo was released on the 30th of March, 2006. It is an extended version of the original arcade game and players could play against each other online through Xbox Live.
Zoids Infinity EX PLUS (Arcade)
Edit
The latest game in the Infinity series, Zoids Infinity EX PLUS was released in June 2006 as another update of the arcade games.
Community content is available under
CC-BY-SA
unless otherwise noted.